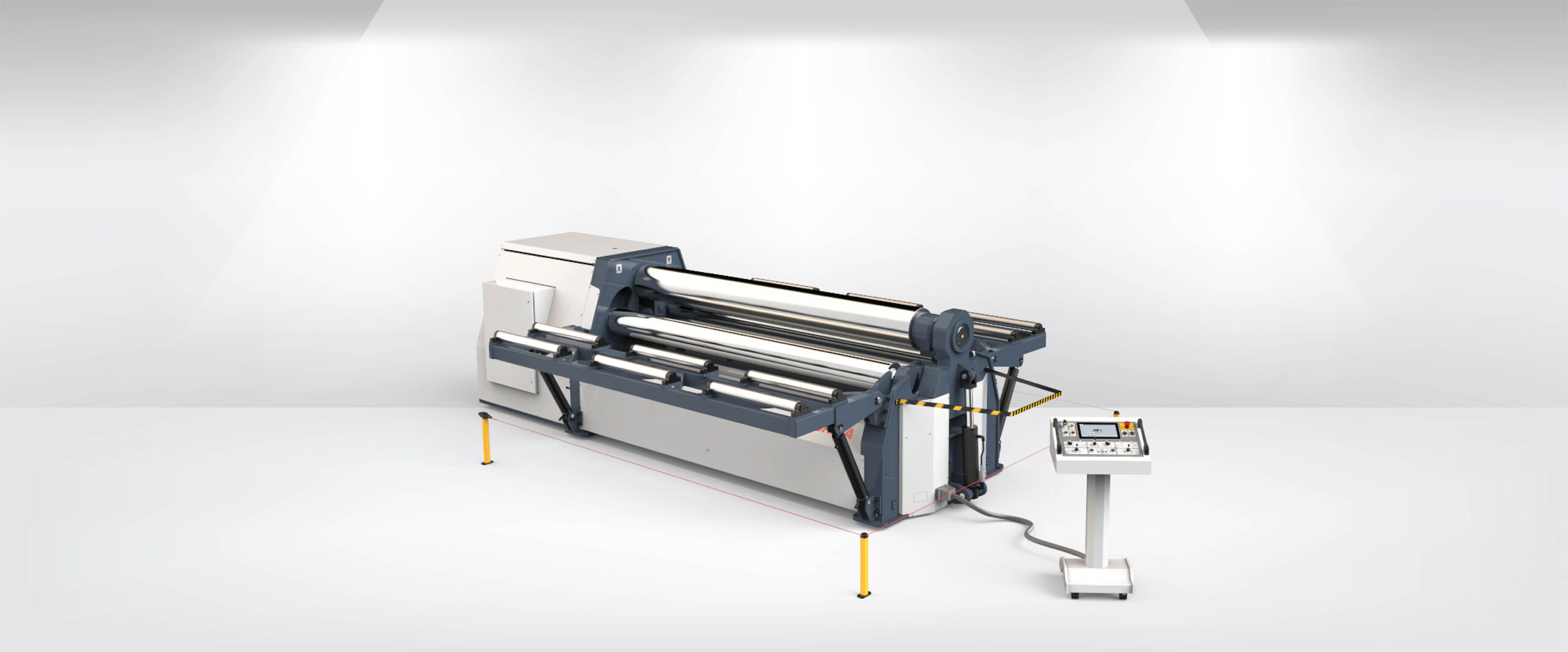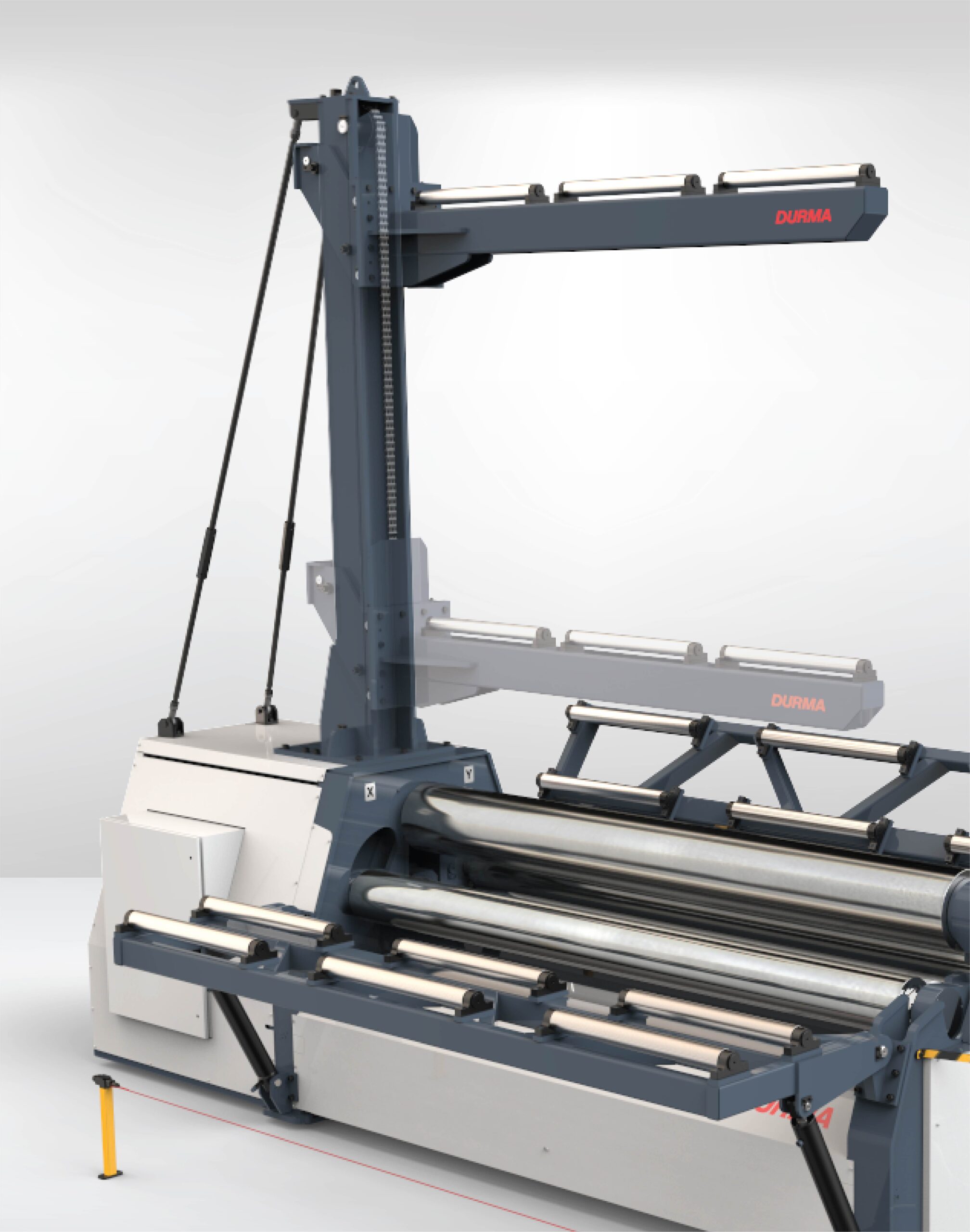 HRB-4 Cylinder Bending Machine
Roll bending machine is a versatile machine. The Durma HRB-4 Roll Bending Machine offer a precise experience. Designed to be efficient, HRB-4 is a durable machine. It is more versatile, fast and safe. Moreover, Durma HRB-4 Roll Bending Machines are less dependent on operator competence. They are ideal for bending sheets from 3 to 150mm thickness up to a useful length of 8000mm.
Durma HRB-4 is developed to give the plates mostly a cylindrical and conical shape. These bending machines are renowned for transforming flat sheet metal into a spherical body. Moreover, it can produce a cone tube body and other various shapes.
HRB-4 Roll Bending Machines are productive. They are precise, safer and versatile. They are easier to operate compared to other machines in the category. Once the material is set and pinched the two rolls on either side of the pinched roll do all the work. This is done without having to remove the plate and rotate it for pre bending both ends.
They can roll big range of thick plate steel. Therefore, they are most likely to be outfitted with CNC controllers for variable radii applications. Complex shapes such as elliptic and polycentric workpieces can be produced. Their greatest advantage is that they can be used on a wide range of sheet metals. They have a high degree of automation.
What are the Advantages of the Durma HRB-4 Roll Bending Machine?
The Durma HRB-4 Roll Bending Machine is strong, agile and easy-to-use. If you need a versatile machine that is fast, safe and precise, your needs will be covered. The four rolls make it easier to use, compared to the three-roll cylinder bending machines. Durma HRB-4 machines are less dependent on operator competence. They will save you time, money and energy. The Durma HRB-4 machines are ideal for bending sheets up to 150 mm thickness.
The side rollers are hydraulically driven by 4 powerful hydraulic cylinders. Synchronization between each other is achieved by measuring the very sensitive magnetic linear encoders; i.e. commands in a millisecond of a fast PLC.
It has high-precision load check valves. Therefore, it does not lose its position even under extreme pressure.
Moreover, it has a pressure adjustable lower hydraulic roller positioned on the high-strength balance shaft. Thus, the sheets of different thicknesses are compacted without being deformed.
In HRB-4, the lower and upper rollers are driven with equal moment. It has an automatic compensation feature. Therefore, the speed differences between the lower and upper rollers are equalized. Thus, it does not cause power loss. Thanks to this system, bending operations are performed in fewer steps. Time saving is ensured.
Powerful hydraulic brakes do not allow the sheet to slide back. This ensures safety especially during pre-bending. Pressure relief valves used against overloads. Moreover, peak pressures protect hydraulic-motors and other components.
Thanks to the more reinforced and lowered body structure, flexing and twisting during bending operations are minimized. These more rigid bodies are joined by steel bars into the reinforced chassis to form a strong frame structure.
Technology of HRB-4 Roll Bending Machine
All mechanical and hydraulic systems of HRB-4 series machines are designed by expert and experienced engineers in the R & D center. This is done by using parametric 3D technology. We perform static and mechanism analyses. All electrical and electronic systems are designed by mechatronics engineers. They undergo various long-running tests.
All source voltages of body, chassis, and steel bars constituting the frame are removed by a vibratory stress relieving device after welding. In 5-axis CNC machining centers all operations are completed in one connection. In this way, the parallelism of all the axes and surfaces of the machine are provided. All of these operations allow HRB-4 Cylinder Bending Machines to maintain their sensitivity and durability for many years.
The rolls have high-strength self-aligning roller bearings. Moreover, they have non-wearable lead-bronze alloy bearings. This bearing system which requires less lubrication maintains its sensitivity for many years.
Roller placement has been obtained on the basis of long continued tests and calculations. The side rollers which are placed on the planet handle work on orbits in the form of independent arcs. Depending on the capacity, bendings of 1.1 times the diameter of the upper roller can be obtained.
Why Should You Choose HRB-4 Roll Bending Machine?
Perfect front bendings are achieved as the side rollers move closer to the upper rollers from a distance. The back stretching of the sheet is minimized. (In the machines with a top roller diameter ≥ 460 mm, the movement of the side rollers is designed linearly.)
The most important element in roller machines is high strength rollers. Therefore, the bending diameters rise up to 5 times the diameter of the upper roller. Durma HRB-4 series machine rolls are designed with large shaft diameters. Thus, the shaft diameters will have minimum deflections. It is manufactured from certified and quality-controlled high resistant carbon steels (C45). Moreover, it is processed on the CNC lathe with high precision. It has high tolerance without any notch effect. Working surfaces are hardened by induction at HRc 54±4. It is controlled by hardness testers in many ways.
Deflections that can occur in the rolls during the bending are reduced. The rolls are processed in a bubble shape with reference to the thicknesses of the machine's capacity. No extra charge is required if: special ridging is requested for different thicknesses or material types at the time of ordering. With HRB-4, bendings are obtained in fewer steps.  You can bend in a shorter time and produce the best forms.
Why Should You Choose Durma?
Business, like life, is a journey. With Durma machines, you will overcome all obstacles and surmount all challenges that business presents. We will be with you every step of the way. We know that your growth is our growth, and that your success is our success. As Durma, we manufacture machines that are durable, flexible and innovative. We aim for excellence in all our machines, and we build trust with our customers to produce flawless tools. Our cutting-edge technology will get you clear-cut results, fast, with perfection.
Durma means 'Keep going'. With Durma you will progress and produce continuously.
Files You Can Download